Large Animal Veterinary Services
Horse Vet Care
We offer equine vet care with a focus on helping your horse achieve optimal health. From leg and foot health to treatment and prevention of lameness, pre-purchase exams and preventive care, equine dentistry, and more we have the services you need to keep your equine friend healthy and happy.
Our state-of-the-art mobile units provide our vets with the tools they need to provide on-site diagnostic services to horse owners including digital radiography, digital ultrasonography, and fiber optiscope  evaluations.
 .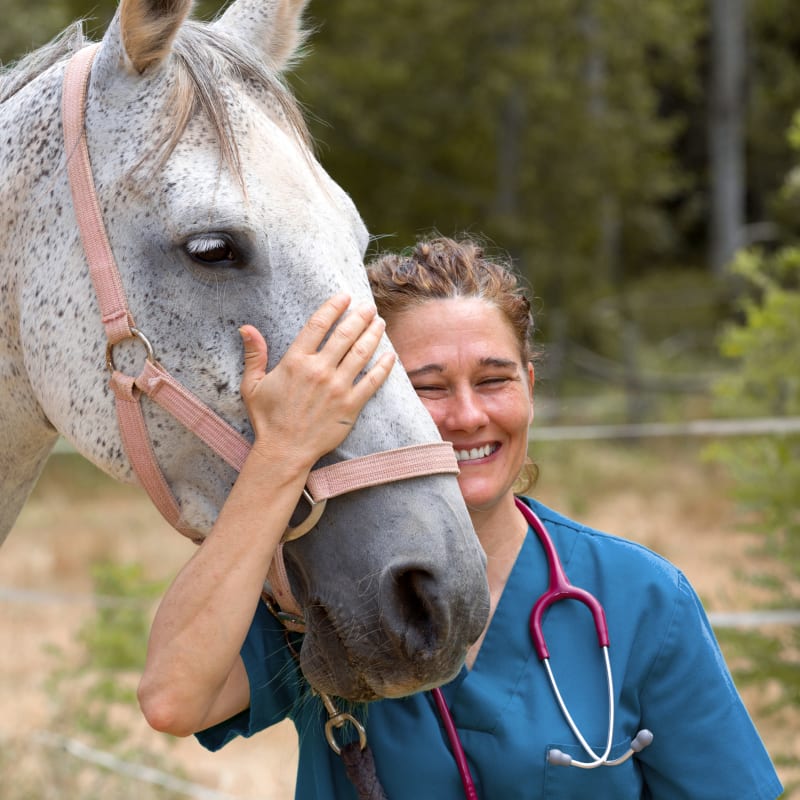 Equine & Large Animal Vet in Santa Clarita
At Sweetwater Veterinary Clinic our vets provide all of the equine veterinary services and treatments you need to keep your horse healthy and injury free.
Whether you require equine health services, emergency care, international or interstate health certificates, or Coggins, our Santa Clarita vets can provide the care and services your beloved horse needs.
Procedures & Treatments
Our equine trained vets at Sweetwater Veterinary Clinic provide a comprehensive range of services and treatments for hard working horses and their proud owners including:
Diagnostic Testing
Following a thorough physical examination, diagnostic testing may also be necessary to help your vet pinpoint the specific location and cause of your horse's lameness.
Lameness is most effectively treated once the precise location and cause of your animal's problem has been established.
If your equine vet has cause for concern based on initial examination, they may recommend further tests such as diagnostic nerve or joint blocks, radiographs, ultrasound, arthroscopy or examination of blood, synovial fluid and tissue samples.
Diagnostic Imaging
If your horse is suffering from an injury or lameness issue your vet may recommend an ultrasound and/or digital radiograph to help them get a clear view of the issue in order to form an accurate diagnosis.
Thanks to our Santa Clarita mobile equine units our horse vets can use advanced diagnostic imaging equipment to obtain the best possible image of your horse's skeletal or soft tissue issues, on-site at your location.
Equine Emergency Vet in Santa Clarita 
In addition to our normal emergency services for cat and dogs, we provide 24 Hour Emergency Service for large animals.  Please call us at our normal office number at any time of the day or night and you will be directed on how to proceed.  For an after hours call, the doctor will be paged. 
New Patients Welcome
Sweetwater Veterinary Clinic is accepting new patients! Our friendly and experienced vets are passionate about the health of Santa Clarita companion animals and horses. Get in touch today to book your four-legged friend's first appointment.